[short url]
Jeremy Kittel Wins 2010 U-M Emerging Artist Award
Thursday, June 10, 2010

Jeremy Kittel
has won the
2010 Emerging Artist in Music Award
from the University of Michigan School of Music. This honor, bestowed annually, is awarded to a graduate from within the past fifteen years who has made "significant contributions in the field of music, theatre, or dance, and will have had a positive impact on the School of Music community, its curriculum, and its reputation." Jeremy will travel in October from his current home in California back to the University to officially accept the award and participate in University events. Says Jeremy, "It's inspiring and encouraging to be this year's recipient. Many thanks to the wonderful community of teachers and students I was able to learn [from] and grow with during my time there." This is the second honor Jeremy has received from his alma mater. The University of Michigan Stanley Medal was awarded to Jeremy Kittel in 2004. The Albert A. Stanley Medal, presented annually to the graduating senior who has been most outstanding in his or her curriculum, is the highest honor awarded by the School of Music.
Congratulations Jeremy!
[short url]
Jeffery Broussard Nominated for Award
Monday, March 15, 2010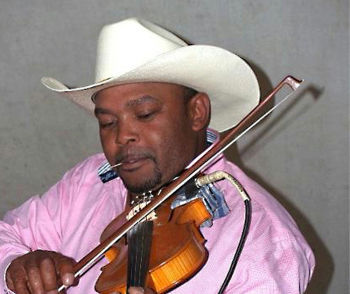 The Big Easy Foundation has announced the nominees for its 2010 Big Easy Music Awards. Among these nominated artists is
Jeffery Broussard
, nominated for "Best Zydeco" artist. Winners will be announced at the Big Easy Awards on Monday, April 19, 2010. Congratulations Jeffery!
Click here
to read about all of the artists nominated in the 21 music categories being honored.
[short url]
Jeremy Kittel Releases CD
Tuesday, January 26, 2010
Jeremy Kittel has released a new CD,
Chasing Sparks
(Compass Records). With the drive of Celtic fiddling, the spontaneity of jazz, the soul of bluegrass, the rhythms of Africa and Latin America, the layered melodies of Eastern Europe, and the intricacies of chamber music, fiddler Jeremy Kittel consistently captivates audiences. On
Chasing Sparks
, Kittel, a US National Scottish Fiddle Champion and winner of six Detroit Music Awards, leads an exceptional band whose musical roots transverse the world. Members of the band include guitarist Kyle Sanna, World Music Award-winning percussionist Bodek Janke, bassist Andrew Kratzat and cellist Tristan Clarridge. You may listen to some of the clips from this latest release on our
website
, and read more about Jeremy by
clicking here
.