[short url]
Vishtèn Receives Two 2013 Canadian Folk Music Award Nominations
Tuesday, October 22, 2013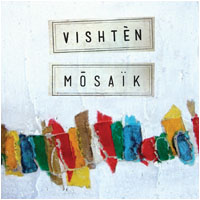 Vishtèn's recording,
Mosaïk
, has been nominated as Traditional Album of the Year as part of the
2013 Canadian Folk Music Awards
(CFMA). This year's CFMA awards will be presented the weekend of November 8-10, 2013 at the University of Calgary Theatre in Calgary, Alberta. Vishtèn was also nominated as Ensemble of the Year.
Vishtèn
is comprised of Emmanuelle LeBlanc, Pastelle LeBlanc, and Pascal Miousse.