Soulsha
BIOGRAPHY
Performance Formats: seven-piece band, as well as other combinations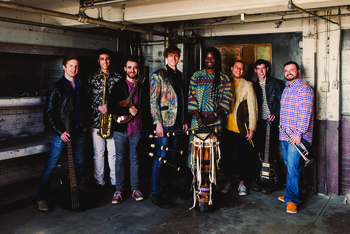 Soulsha
Afro-Celtic funk

Online/streaming offerings:
Elias Alexander (Soulsha band leader):

Solo concert featuring a variety of traditional and original music from the deep well of Scottish tradition



"Sure to turn anyone into a dancer. …vibrant and never repetitive. …Soulsha is truly unlike any other jazz or Celtic band out there."
— Kathryn Leeber, The Noise Boston


"Multi-talented and visionary, Soulsha is more than a fresh breeze blowing; it's a tsunami of hope and high energy intercultural awareness… DANCE and ACT now!"
— Alasdair Fraser, Scottish fiddler


Soulsha is a party, a revolution, and an adventure through different traditions. It brings together some of Boston's top musicians in Scottish, West African, and Funk music to create a sound you won't find anywhere else on the planet.

Soulful call and response singing, masterful improvisation, traditional Senegalese and Scottish dancing and incredible energy make every Soulsha show an unforgettable live experience. Intricate rhythms, soaring bagpipe melodies, and New Orleans-infused horn lines come together seamlessly, reminding us that we're all in this together.

Many of the members are virtuosic and highly esteemed tradition-bearers in their styles. The music they've created is a conversation between cultures that breaks down all the boundaries, moving the audience to abandon their assumptions as they lose themselves on the dance floor.

While it shares obvious roots with Afro-Celt Sound System's electronic fusion, the funk-inspired sound of Soulsha puts tradition and interchange center stage, bringing the party energy of Rebirth Brass Band, and the cultural gravitas of masters like Malian Toumani Diabaté. The sound is fun but deep, fresh but familiar, immigrant and yet deeply American.