Genticorum
BIOGRAPHY
Performance Formats: Trio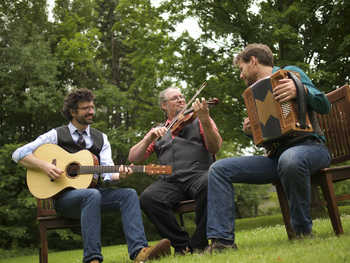 Genticorum

Quebecois power trio with fiddle, accordion, & 3-part harmonies

"Their joyous attack on any subject is transformed by their overall energy and style of playing. It's feel-good music that transcends any lyric and the chance to see these merry wizards deliver the goods live is about as good as music gets."
— Roots Music Canada



Over the past nineteen years the traditional Quebec group, Genticorum, has become a fixture on the international world, folk and Celtic music circuit. The band's six albums met with critical acclaim in Canada, the United States, and Europe, assuring the band a brilliant future. Genticorum has given more than 1,500 concerts in more than fifteen countries.

Firmly rooted in the soil of their native land, the energetic and original traditional 'power trio' also incorporates the dynamism of today's North American and European folk cultures in their music. They weave precise and intricate fiddle, flute, and accordion work; along with gorgeous vocal harmonies, energetic foot percussion, and guitar accompaniment into a big and jubilant musical feast. Their distinctive sound, sense of humor, and stage presence makes them a supreme crowd pleaser.

PASCAL GEMME
Pascal Gemme (fiddle, feet, voice) is widely recognized as a cultural ambassador for Québécois music, having shared his deep knowledge and vast repertoire of fiddle tunes across North America, Europe, China, and Australia.

From a young age, the fiddle music and songs of his native province have captivated him. After graduating with a degree in composition and band arrangements at Montreal's St Laurent College, he immersed himself in the traditional music around him—playing, collecting, and recording music found all over Quebec.

YANN FALQUET
Yann Falquet is one of the most active and creative acoustic guitar players in the Québécois and New England music scenes. Since completing a bachelor's degree in jazz, he has developed his own personal guitar style for Québec folk music, inspired by the playing of the accompanists from Brittany, Scandinavia, Ireland, and the United States.

His involvement in the province's traditional music scene has brought Yann to perform on numerous recordings, and to tour regularly throughout Canada, the United States, Europe, and Australia with Genticorum, as well as with JUNO award-winning Celtic and group The McDades, the Jean-François Bélanger Trio, DuoDuo, and cellist Natalie Haas.

NICHOLAS WILLIAMS
Nicholas Williams has developed a reputation as a versatile and sought-after musician in the traditional music scenes of Québec and New England. His rhythmic yet nuanced style of flute playing draws from Irish and Scottish traditions, as well as from his studies of classical North Indian music. After completing a BFA in world music and composition at York University, Nicholas moved to Québec in 2000, bringing his own diverse musical experiences to the Québécois traditional music idiom. Also an accomplished accordion and piano player, he has toured extensively with the band Crowfoot, with fiddler Laura Risk, and in the Alex Kehler & Nicholas Williams duo.