[short url]
Jay Ungar & Molly Mason Release CD
Tuesday, December 2, 2008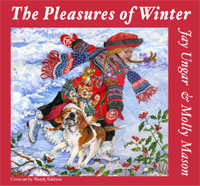 Jay Ungar & Molly Mason have released a new CD,
The Pleasures of Winter
, just in time for winter and the holiday season. The CD features Jay and Molly's live performances from their annual public radio program with a variety of great musicians making guest appearances in the house band, including: Harry Aceto, David Bromberg, Peter Davis, Peter Ecklund, Laurel Massé, Brian Melick, Michael Merenda, Ruth Ungar Merenda, Steve Rust, Butch Thompson, Tony Trischka and Sam Zucchini. For more information on the CD, or to order,
click here
.